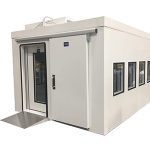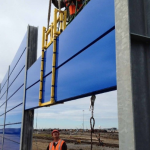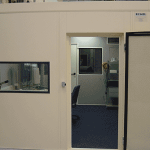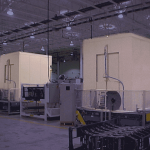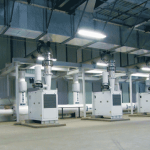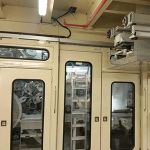 Engineer a Quieter, Safer and More Productive Workplace​
Eckel's Industrial Enclosures are designed to provide effective noise containment in manufacturing operations and other settings where the noise generated by machinery and production lines can raise ambient sound levels to thresholds that create both safety and health concerns.
Enclosures are designed to meet or exceed OSHA requirements and are ideal for use in virtually any space where noise generated by machinery and equipment needs to be controlled to protect personnel from hearing loss and fatigue.
Eckel Enclosures offer an array of optional features and are built to fit the unique operational need of each customer's application. Their modular panel construction helps facilitate installation while providing flexibility if or when facility floorplans change.
 Eckel Enclosures are Ideal for containing noise and creating improved working conditions in a wide range of settings, common applications are:
Industrial Acoustic Enclosures
Acoustic Friendly Workspaces
Enclosures encapsulate and isolate noisy machinery to reduce sound levels below OSHA limits mandating hearing protection.
Where to apply Enclosures
Ideal for use in an array of applications :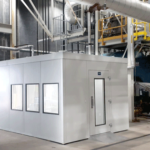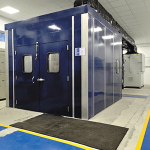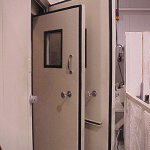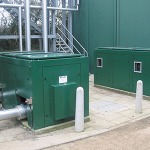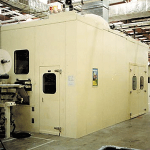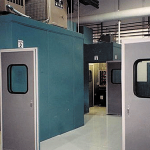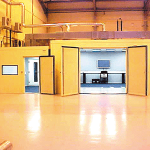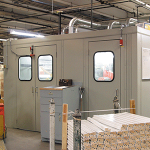 Pre-engineered, structurally strengthened panels and door systems​ combine outstanding sound properties with an array of applications.
The 41, 44, or 48 STC panels provide a safeguard system for personnel from hearing loss and other noise-related hazards and can help you achieve the noise reduction necessary to meet OSHA requirements.
Doors can be rated up to 57 STC.
The Enclosure Modular Panel component system of 4" (102 mm) thick sound-rated panels and accessories allows a degree of construction freedom not found in conventional acoustic panel systems.
Excellent Acoustic Control
With an Enclosure Modular Panel system, both transmission loss and sound absorption are optimized.
No special equipment or tools are required to set-up an Enclosure Modular Panel system sound-control structure.
Readily Adaptable to Changing Needs
The Enclosure Modular Panel systems are truly modular with interchangeable elements to allow enclosures to be readily relocated or reconfigured to accommodate user's changing needs and floorpans
Complete Range of Components to Satisfy Any Noise Isolation Need
The Enclosure Modular Panel components, offered in a broad selection of widths and lengths, include various types of door panels, window panels, and hatch panels performance with many custom options.
Eckel solutions teams provide custom engineered noise control products and systems to meet the unique requirements of our varied clientele.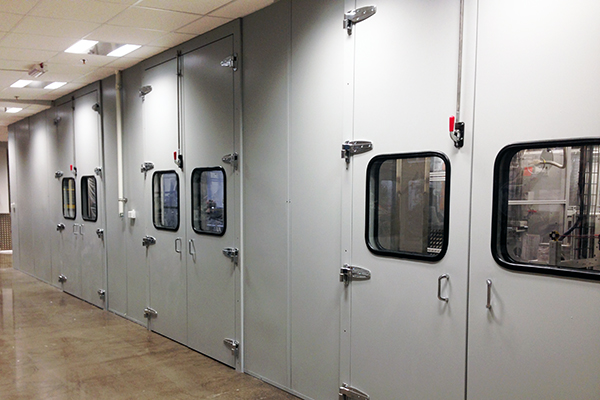 Acoustic Performance
Results of the tests shall be provided and the minimum performance shall be as follows for our panel systems.
Transmission Loss
Sound Absorption
Frequency (Hz)
Standard Package
Enhanced Package
Advanced Package
Standard Package
Standard Package
125
19
26
24
0.71
0.71
250
30
33
37
1.14
1.14
500
39
42
48
1.16
1.16
1000
50
48
56
1.06
1.06
2000
58
57
57
1.04
1.04
4000
60
61
61
1.13
1.13
8000
>60
>60
62
STC
STC 41
STC 44
STC 48
NRC .95

Wall and Ceiling Construction
Wall and ceiling panels are composite with overall 4″ thickness. The ceilings shall follow with the same fabrication concept except that the overall thickness of these panels will be 6".
Cold rolled steel framing members and bottom face sheets. The entire floor floats on vibration isolators and rails. Isolators are rated with a natural frequency of 6.5 Hz.
Standard doors are 2 7/8" thick, of similar construction to that of the walls and ceiling. Doors are flush mounted on heavy duty cam lift hinges. A double magnetic gasket sealing system and flush sill seal design assures the acoustic seal. Standard door has a clear opening of 32" x 73 ¾. Optional 36" clear opening door is also available.
Rooms can be equipped with ceiling mounted LED lighting and duplex outlets. All cabling is inside the acoustic wall system wherever possible, and is connected to the outside by way of a surface mounted electrical box.
Double-glazed 24" x 30" window is constructed using ¼" safety glass. The cavity between the two layers of glass shall be inset with a perforated steel spacer for a better seal and to allow for a better absorption of sound. Further, this space shall contain dehydrators to prevent the occurrence of condensation between the two layers of glass.
It shall be electro galvanized steel prime painted with standard shop gray prime or finish painted with polyurethane enamel. Linear White, Lux White, Grey, and Beige are available standard colors, special colors are available upon request.
Certifications and Safety
Standard Enclosures come labeled and certified for 120 Volts, 15 Amps, 60 Hz, other electrical standards available upon request.
All electrical in the room is Hospital grade.
All panels have a flame spread rating of 3 and a Smoke Density Rating of 2.
All rooms are CSA APPROVED as electro-medical equipment.
Options / Accessories for Enclosures
Enclosures can be constructed with options and accessories as below
Get in touch with Eckel. Call, email, connect on social or use the form below to get in touch
Telephone
TOLL FREE: 1-800-563-3574
CANADA: +1-613-543-2967
UNITED STATES: +1-978-772-0840